Marvel's Spider-Man 2 will have ray tracing on no matter what visual mode you choose
Whatever your preferred frame rate is, the lighting will look great.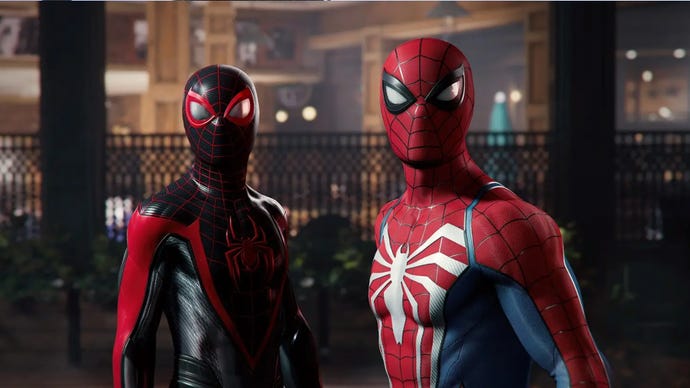 According to Insomniac, no matter the mode you're playing on, Marvel's Spider-Man 2 will always have ray tracing turned on.
Spider-Man 2 looks like it's shaping up to be quite a visually stunning looking game, with those New York sunsets looking even better than the previous entries in the series. But for those who like their lighting ray traced, there was obviously the question of which modes the feature would be available on. A lot of games these days come with performance and fidelity modes, which Spider-Man: Miles Morales released with, the former allowing for 60fps, the latter allowing for ray tracing but at 30fps. But in a recent interview with IGN, director of core technology at Insomniac Mike Fitzgerald confirmed that every mode in the game has ray tracing on.
Watch on YouTube
"For this game we're really able to deliver [ray tracing] as a baseline performance mode," Fitzgerald said in the interview. "There's no mode of this game that has the ray tracing turned off, no need for it. We've really figured out how to deliver what we feel like is the right Spider-Man visuals and we want to make sure every player is seeing that."
This time around, Spider-Man 2 will have three frame rates to choose from, 30fps, 60fps, and newly added is 40fps, obviously creating for a slightly smoother experience than 30fps, but not as intensive as 60. You'll also find that 30fps does have better graphical fidelity, but that obviously depends on your priorities while playing.
VG247 also recently had the opportunity to speak with Insomniac about how Spider-Man 2 proves that the PS5 can make PlayStation's best even better. In particular, the PS5 has really let the team "come up with some really epic moments in the game," when it comes to things like quickly transitioning between interior and exterior locations.
Spider-Man 2 is out October 20 exclusively on PS5.