That Oblivion remaster is seemingly real, and Fallout 3 might be getting one too
A big leak seems to have confirmed the pair of remasters.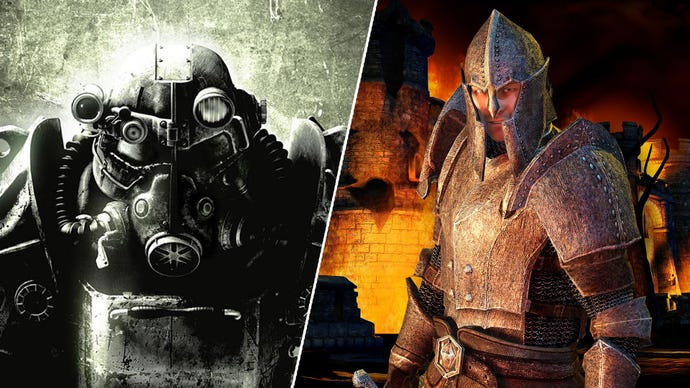 It might be your time to rejoice, Oblivion and Fallout 3 fans, as a big Microsoft leak appears to have confirmed remasters for the pair of games are on the way.
Today is not Microsoft's day, as a whole bunch of confidential details have emerged from some documents as part of the FTC's case against the tech company. For one, it's been revealed that Dishonored 3 is in the works, and perhaps slightly surprisingly, a Ghostwire: Tokyo sequel too. But the thing that Bethesda fans will most likely be interested in is that remasters of both The Elder Scrolls 4: Oblivion and Fallout 3 are in the works.
The leaked documents were shared on Resetera, showing a list of games and the years they were expected to release in. It's important to note that the Oblivion remaster was apparently planned to have been released in 2022, but obviously that year has come and gone, and we're almost finished with 2023 without any kind of official announcement about it. There was a rumour earlier this year about a potential Oblivion remake that Virtuos Games is apparently working on, but again, no confirmation on that just yet. Virtuos Games is a studio that predominantly co-develops games, and is currently assisting Konami on the upcoming Metal Gear Solid 3 Remake.
Fallout 3's apparent remaster is currently slated for a release next year, but judging by the release schedule it seems unlikely that all of the release windows mentioned are still accurate. The untitled Indiana Jones game has a 2022 release window, for example, and both Starfield and Redfall have a 2021 release window, but both titles obviously released this year.
Given that the Oblivion remaster was apparently meant to release in 2022, it's more likely that we'll hear something concrete about it before we hear anything about Fallout 3, and if previous rumours are true we can probably expect it to release late next year, early 2025. It's also worth noting that considering these documents might be outdated, any of the listed projects could change or even be outright cancelled, so don't get your hopes up too much.