Final Fantasy 7 Rebirth will be almost three times bigger than Remake
The upcoming sequel looks to be bigger and bolder.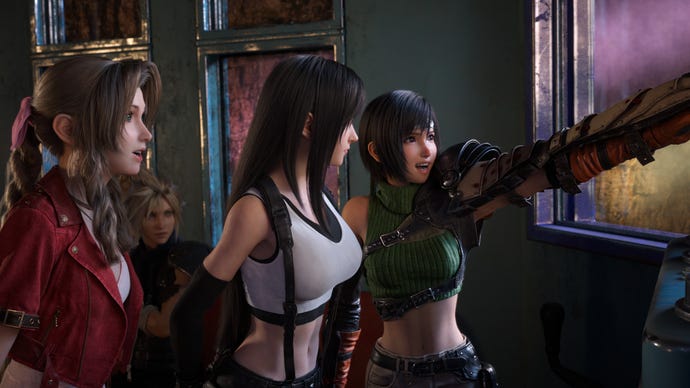 Final Fantasy 7 Rebirth is sounding pretty big compared to its predecessor, with all content in the game coming to almost 100 hours.
Compared to Square Enix games of old, Final Fantasy 7 Remake isn't all that long. You can beat the game in about 30 hours, with maybe an extra five or so on top of that dedicated to the game's side quests. With Final Fantasy 7 Rebirth very likely going the open world route, it would be fair to assume that the adventure will be a bit bigger this time around. And that assumption would be correct, as in a comment shared to the official Final Fantasy 7 Twitter account, director Naoki Hamaguchi touched on the total playtime of the game.
Watch on YouTube
"While the main storyline is bigger and more ambitious than the previous game's narrative, Final Fantasy 7 Rebirth also embraces the concept of 'free exploration," with compelling stories, fun mini-games, powerful monsters and so much more to find throughout the world map," wrote Hamaguchi. "We hope you will explore this world in great detail, as nearly 100 hours of adventure awaits."
By my count, that's roughly three times as long as Remake, presuming you beat all the side quests too. That's quite the increase in scope, and it's not even clear how much of that is just the main story by itself.
Creative director and Kingdom Hearts creator Tetsuya Nomura also spoke with the PlayStation Blog about the game, strongly hinting at where the game ends. "We have mentioned this a few times before, but the order in which you can explore the locations is not the same as the original Final Fantasy VII, and there are some shifts in the order," said Nomura. "For example, Wutai, one of the major locations, is not part of the route in Final Fantasy 7 Rebirth and will be visited in the next one. Although there are some changes in the order of the locations, the locations depicted in this title extend up to 'The Forgotten Capital,' where the greatest fate of Final Fantasy 7 awaits you."
To be on the safe side, I won't say what is arguably the Darth Vader of video game spoilers, but for those who know, that sure is an ominous way to share that detail.
Final Fantasy 7 Rebirth is out February 29, on PS5.